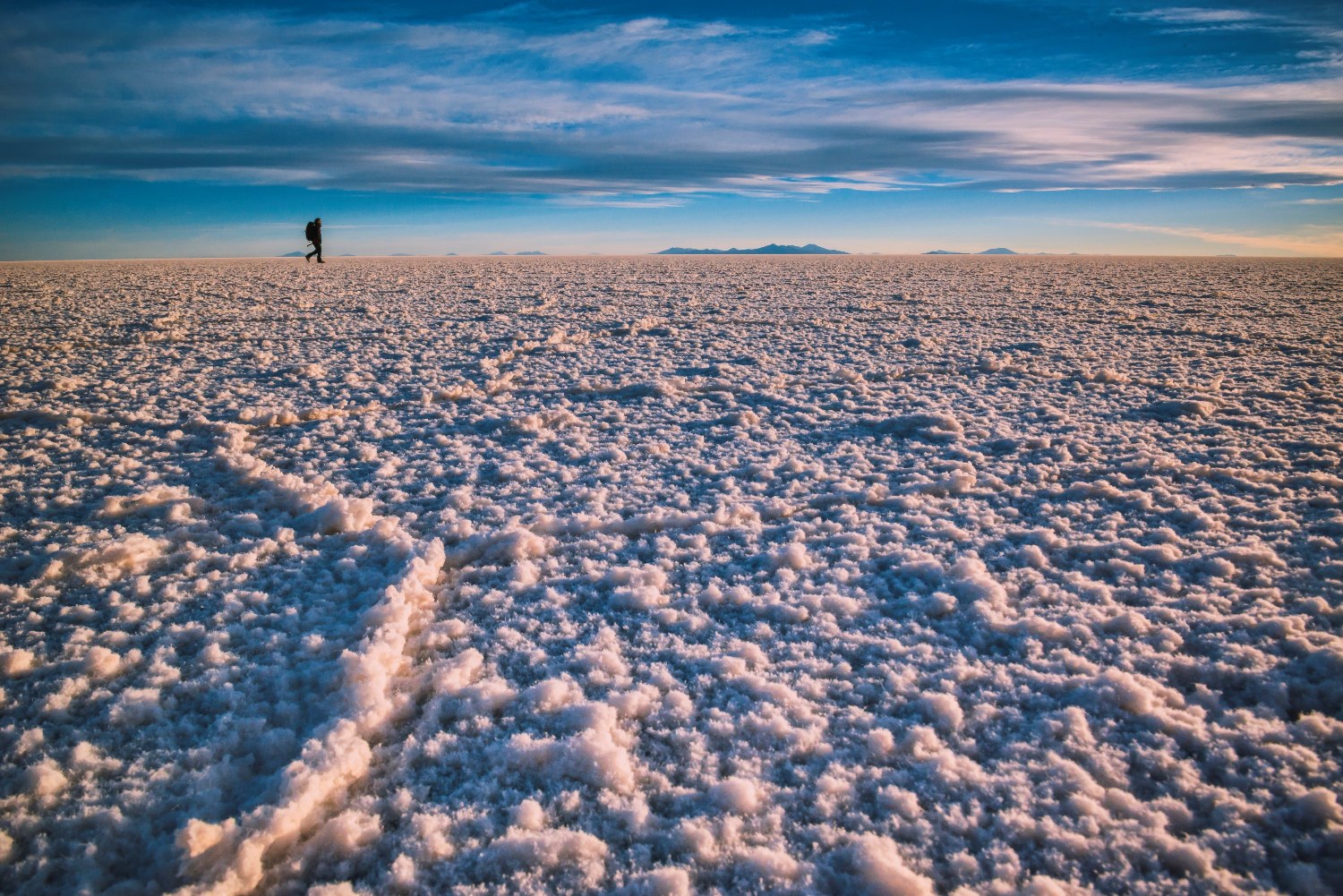 DAY 1.- SEPTEMBER 14 VILLAZON - TUPIZA
11:00 We will collect you in Villazon at the border with Argentina, from there in a very nice road we will drive to Tupiza.
13:30 Tupiza arrival and we will visit Puerta del Diablo and Cañon del Inca with amazing possibilities to take amazing photographs
14:30 Transfer to Uyuni, we will cross for almost 3 hours through amazing valleys and colorful hills, the scenery somewhat reminiscent of the United States desert, .
17:30 We will be arriving to train cemetery, Bolivia is a tin and silver mining country. At the beginning of the 1900s the first engines and carriages arrived to facilitate exporting tin and silver to Chile. Progress never came to these small communities and the trains have been abandoned as silent witnesses to Bolivia's mining heyday. Now, after over 100 years, you can wander around and in the remains of these trains as they slowly rust away.
18:15 We will cross Colchani community where you can see salt factories.
18: 30 We will drive in the middle of the salt flats to observe pipes, eyes and the Salt Museum. Wait for an amazing sunset .
01 OVERNIGHT IN SALT HOTEL LUNA SALADA
Meals: Lunch and Dinner
 Altitude: 2500 – 2800 masl 
DAY 2 . SEPTEMBER 15 UYUNI SALT FLATS
09:00 This singular route takes us into one of the world's most isolated areas where we will be alone surrounded by a glittering white landscape.
10:30 We will reach Isla del Pescado or Incahuasi Island, we will surround the Island by 4×4 and observe the beauty of this Island.
12:30 At midday stop for a private buffet of delicious local products in the middle of the salt flats, and then we will move on to the salt flats to get deep in this amazing desert of Salt.
13:30 Leave to the Tunupa Volcano one of the most impressive mountains in the area here we will visit Chantani Museum, this amazing museum was created by Don Marcelino, a native local entrepreneur to chronicle his culture and daily life, including pots, ovens, costumes, musical instruments and other products.
16:30 You will have the chance to interact with llama shepherds and quinoa farmers. Return to the salt hotel in the late afternoon.
18:00 Return to the hotel
01 NIGHT  IN SALT HOTEL LUNA SALADA 
Meals: Breakfast, Lunch and Dinner
Altitude: 3400 – 3700 masl 
DAY 3.- SEPTEMBER 16 POTOSI
09:00 After a traditional breakfast we will move from Uyuni Salt Flat to Potosi, Bolivia´s imperial city, one of the most important mining centres which became the world's largest industrial complex in the 16th century.
10:00 On the way to Potosi at almost 22 km after Uyuni is Pulacayo; was Bolivia's most important mining center in the nineteenth century. The first train in Bolivia is still in this mining community, which was where Bolivia's most important revolution was planned.
12:30 Arrival to Potosi and enjoy a typical lunch
13:30 We will discover the city stroll down cobbled streets to peer into colonial churches that reflect Potosí's once wealthy past, continue back to the outskirts of the city to the hotel which is a fine example of Potosí's colonial past where you will be surrounded by paintings, ornaments and other details to take you back in history. Many of the buildings in Potosí host great examples of religious art and you will be able to get a good feel for the baroque mestizo architectural style while you visit the Church of San Lorenzo, the Convent of Santa Teresa Museum. At the end of the day arrival to your hotel
01 NIGHT IN MUSEO CAYARA
Meals: Breakfast and Lunch
Altitude: 3200 a 4100 masl
DAY 4.- SEPTEMBER 17 POTOSI – SUCRE
09: 00 After a traditional breakfast we will take you to visit the miners market and the Casa de la Moneda (Mint House) the most important mining center which became the world's largest industrial complex in the 16th century.
14:00 In the afternoon transfer to Sucre
16:00 Arrival to Sucre and visit Recoleta Mirador (lookout point), the Museum of the Recoleta, then the ASUR Textile Museum, which is one of the best collections of textiles in the Bolivian valley region.
01 NIGHT IN SUCRE HOTEL PARADOR SANTA MARIA
Meals: Breakfast and Lunch
Altitude: 2800 masl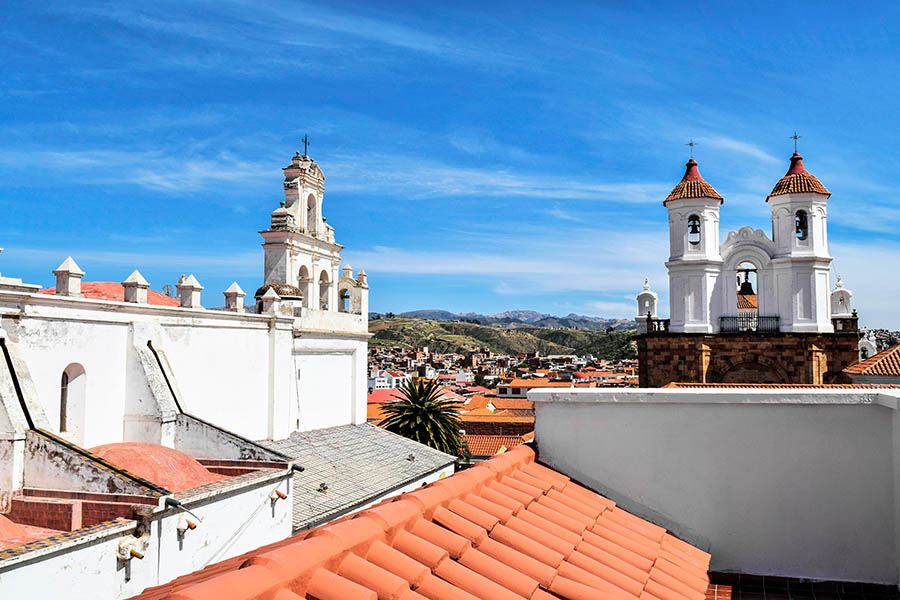 DAY 5.- SEPTEMBER 18 SUCRE
09:00 This beautiful city has preserved much of its colonial past as seen in its winding streets and carved balconies. The weather is balmy and comfortable. This visit to the city of Sucre allows us to get to know the most representative sites of the capital. In the morning the visit begins with the  Metropolitan Cathedral, the museum of the Merced, the Church of San Lázaro, Santo Domingo, Casa de la Libertad, patio of the University of San Francisco Xavier, and Parque Bolivar where many important monuments are located.
14:30 After enjoying a traditional lunch in a typical restaurant we will visit the Convent of San Felipe Nery, here we will learn about traditional products as chocolates and hats characteristics of this amazing city.
17:00 At the end of the afternoon we will move on to the General Cemetery where we can have a look at different mausoleums containing the remains of famous Bolivians.
01 NIGHT IN SUCRE HOTEL PARADOR SANTA MARIA
Meals: Breakfast and Lunch 
Altitude: 2800 masl
DAY 6.- SEPTEMBER 19 LA PAZ
08:30 Transfer from the hotel to Alcantari Airport to take a regular flight to La Paz 
13:15 Once we arrive we will begin the approach to the city a comfortably slow pace and includes most of the highlights of La Paz, offering visitors a more intimate and in-depth look at the history, culture and fascinating natural landmarks which make La Paz such a unique city. We will visit Plaza Murillo in Casco Viejo (the old town), a lovely open square which was designed in 1558 to honor the Bolivian local hero Pedro Murillo. The square is surrounded by historic legislative and government buildings including the Cathedral of Our Lady of Peace (built in 1835) the Government Palace, the 1911 Grand Hotel Paris and the National Congress of Bolivia.
19:00 You now have the chance to see some of the city's interesting residential and economic areas as we board the Mi Telefèrico able car which will take us on a 20 minute ride down to the southern area of the city
01 NIGHT IN LA PAZ HOTEL ATIX
Meals : Breakfast and Lunch 
Altitude: 3200 a 4000 masl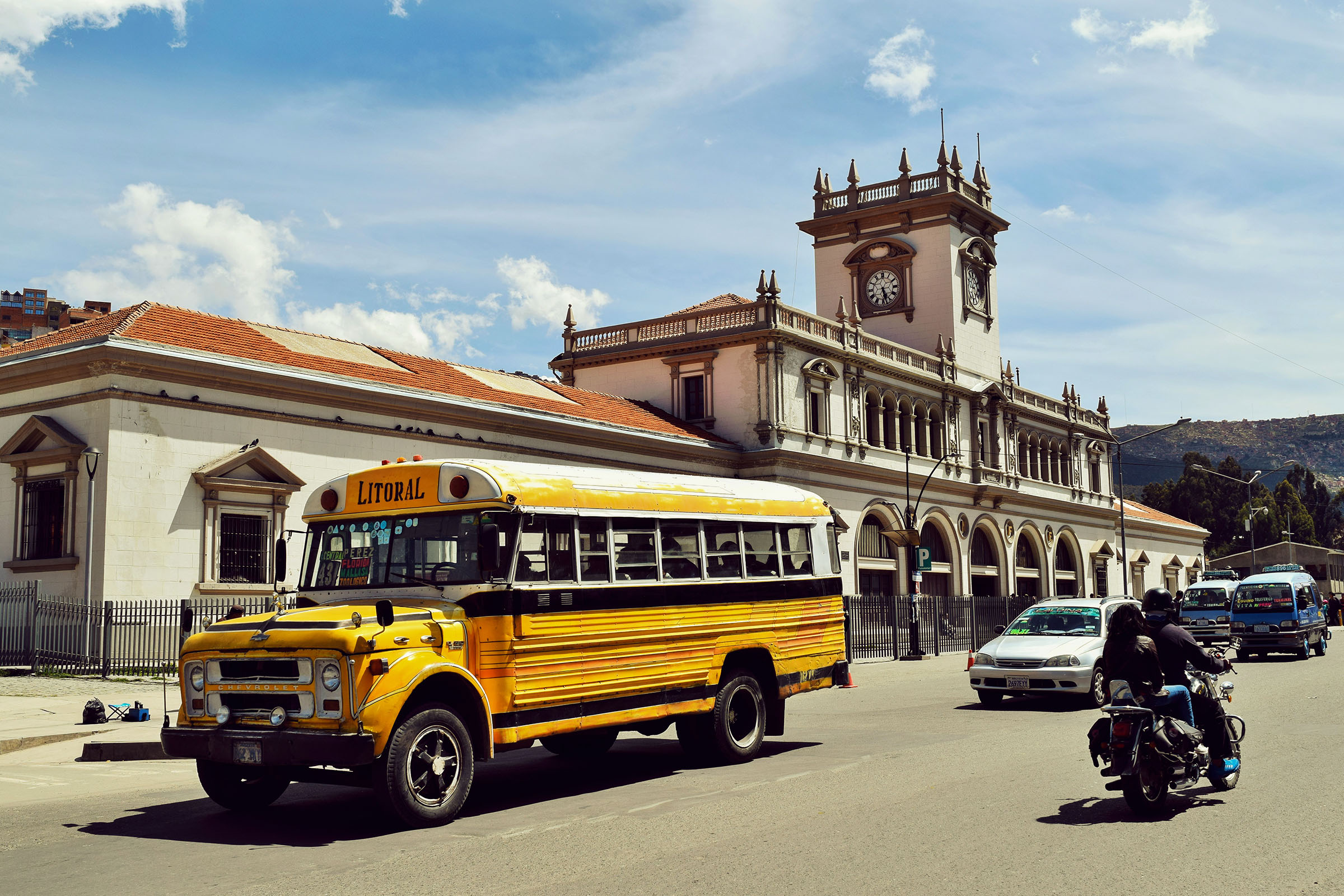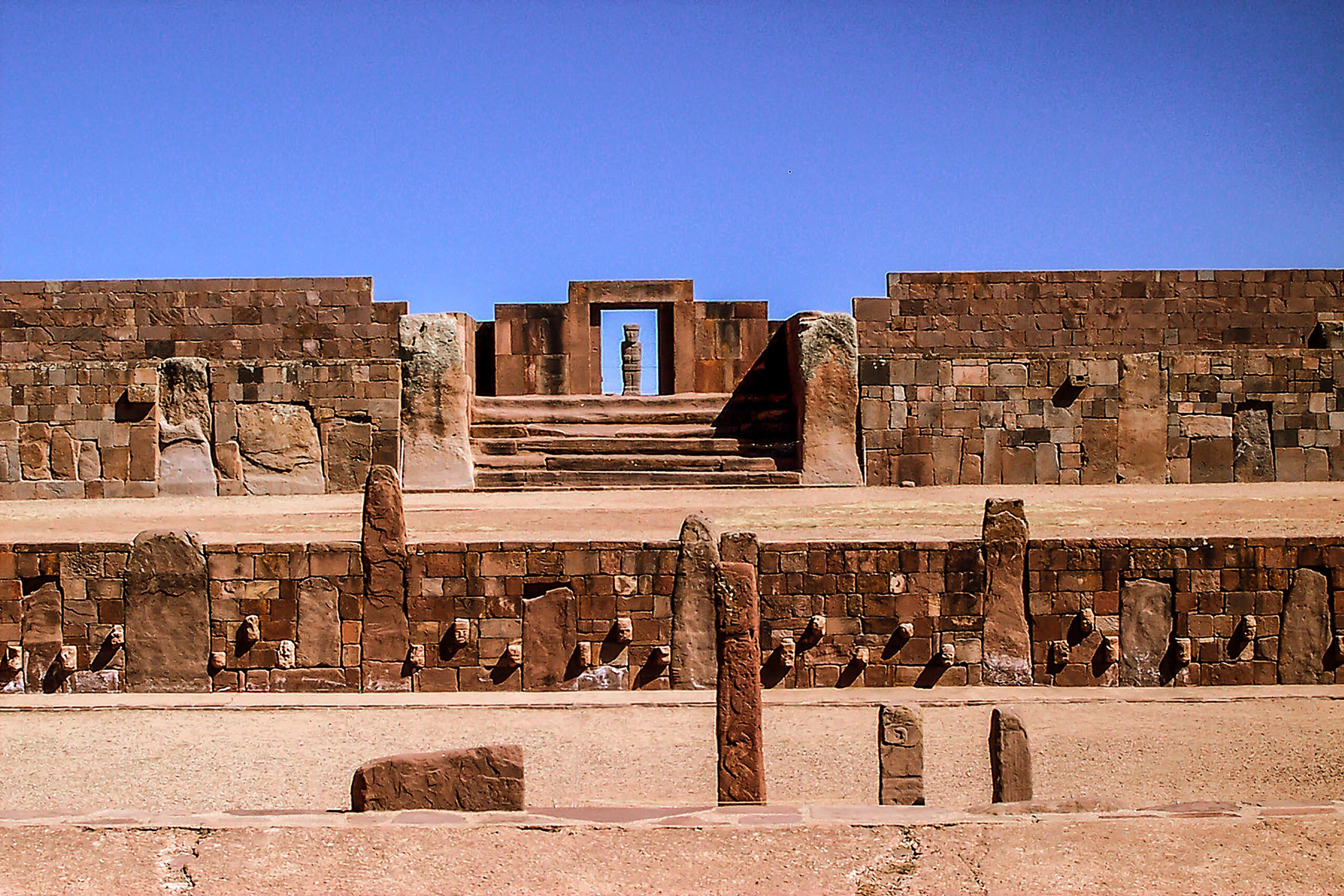 DAY 7.- SEPTEMBER 20 LAKE TITIKAKA AND TIWANAKU
07:30 Transfer from your hotel to Tiwanaku arqueological site, on arrival you will be met by an Amauta (Spiritual Leader) who will be waiting to perform a blessing ceremony for all visitors on the tour. After the ceremony, with your good luck ensured, we will take you to explore this deeply spiritual ancient site which was once home to the mighty Tiwanaku Empire. You can explore the historic archaeological site on foot with our expert guide who will explain the religious symbolism of all the archaeological treasures you will see. You will also visit the two on-site museums to admire an excellent collection of historic artifacts, pottery, and human remains which have been uncovered during archaeological excavation of the site. The pre-Inca ruins of Tiwanaku are a splendid example of one of America's most important cultures. Some of the well-preserved examples of the Tiwanaku culture that you will see and learn about on the site are the Gateway of the Sun, the Pyramid of Akapana, the Temple of Kalasasaya and the Semi-subterranean Temple, and you will have the chance to visit the archaeological site's museum to see pieces of unmeasurable wealth and understand with your guide's help the relation between Tiwanaku and other empires and connections with the world of that time.
12:00 We will drive to lake Titikaka to Huatajata set out on the Lake Titikaka, known as the world's highest navigable lake at 3810 m.a.s.l., to the village of Huatajata 86 km from the city of La Paz. Visit the Esteban family house, a local aymara family that had been involved in expeditions on totora reed boats. The locals in this village helped Thor Heyerdahl and Kittin Muñoz to build the traditional reed boats that they used to cross the Pacific Ocean. Take a short trip on the lake in a reed boat and enjoy views out over the lake to the backdrop of the snow-capped Cordillera Real mountain range.
01 NIGHT IN LA PAZ HOTEL ATIX
Meals_ Breakfast and Lunch 
Altitude: 3850 masl
DAY 8.- SEPTEMBER 21 LAPAZ – SANTA CRUZ
08:30 You will have time to visit one of the museums located along Calle Jaen, a lovely colonial street. From palaces and state buildings we will move on to visit the fascinating Los Andes district. Here you can observe the nimble fingers of local embroiderers who keep the traditions and culture of Bolivia alive by sewing remarkable costumes for the annual carnival. After a short visit here we will move on to see the lovely Baroque San Francisco Church and the famous Witch's Market, where you may be tempted to buy natural medicines or weird and wonderful potions. We also can pay a visit to a Shaman that can bless your presence in Bolivia, with coca leaves and indigenous traditions.
14:00 Transfer to the airport to take a regular flight to Santa Cruz
16:00 Arrive in the city of Santa Cruz at just 400 meters above sea level, a fabulous gateway to Bolivia. Relax and enjoy the warm climate and, if you have arrived on an early flight, City Tour During our tour we will visit monuments of singular importance, the Cathedral, the Arenal Park, the Casa de la Cultura (House of Culture) and the Ethno-folkloric and Natural History museums, continuing on to a place where indigenous producers from the region exhibit their craftwork.
01 NIGHT IN LOS TAJIBOS HOTEL
Meals: Breakfast and Lunch
Altitude: 400 masl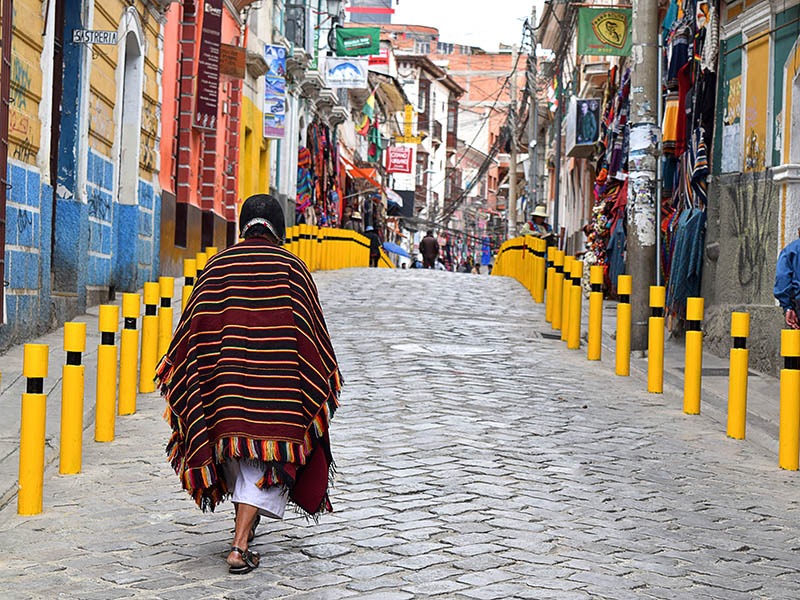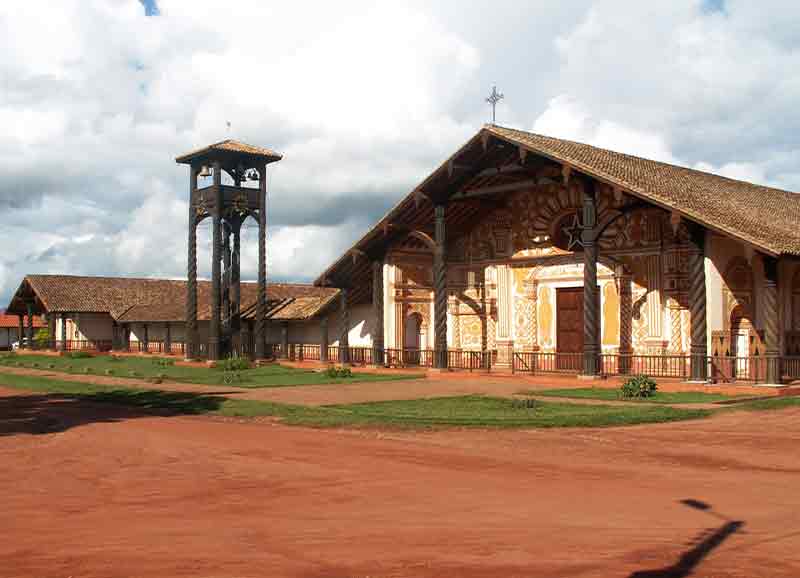 DAY 9.- SEPTEMBER 22 CONCEPCION
08:00 We will leave Santa Cruz early in direction to the countryside for the eighteenth- century Jesuit Missions that are living testimony to the creativity and artwork of the Amazonian indigenous people.
12:00 We will visit the Jesuit Mission of San Javier, which is the first built in Chiquitos area and then continue on to Concepción, built between 1747 and 1752 an incredible fusion of religious and indigenous knowledge, giving rise to a unique and outstanding construction style, here we will visit the Museum of Sacred Art where it will be possible to see a diversity of pieces not yet completed, old images and information on the material used, painting and technique.
14:00 Transfer to Concepcion accommodation and in the afternoon we will visit the church and enjoy the baroque music little concert perform by members of the community.
01 NIGHT IN  CONCEPCION HOTEL
Meals: Breakfast and Lunch
 Altitude: 500 masl 
DAY 10.- SEPTEMBER 23 CONCEPCION
09:00 After breakfast we will visit the Museum that is located near by the Cathedral, later we will go to a country side to obreve haciendas and to have and overview from Sapoco lagoon
13:00 Return to Santa Cruz
01 NIGHT IN LOS TAJIBOS HOTEL
Meals_: Breakfast and Lunch
Altitude: 400 – 500 masl
DAY 11.- SEPTEMBER 24 SANTA CRUZ
Transfer out
Meals: Breakfast 
The secret of getting ahead is getting started." – Mark Twain.
No one knows Bolivia like we do!
We are ready to help you with any needs you may have for visiting Bolivia. Please send us an email for bookings or more information.