Jesuit Missions in Bolivia
Join us on a fascinating journey into 16th century Bolivia as we visit some of the remarkable surviving Jesuit Missions. The Society of Jesus, also known as the Jesuits, was established in 1540 in Spain. A somewhat fanatical offshoot of the Roman Catholic Church, this group of ultra-religious scholars was founded by Saint Ignatius Loyola, and their mission was to convert as many people as possible to Christianity. 
When the Jesuits arrived in Bolivia in 1691, they immediately began to assemble the indigenous Chiquitano people into Christian "reservations" or "reductions" where they were converted to Christianity and taught the principles of Western culture including economics, politics, agriculture, crafts and music.

The missions were quite well received because they set out to uplift and educate rather than to enslave the local indigenous people, unlike the conquistadors. However many nomadic indigenous people were forcefully moved to these urban settlements and compelled to change their traditional lifestyle. Each of these "reductions" was built according to the principles of the "ideal city" of the 16th century humanists. Each village was constructed in a similar way, with a large rectangular square bordered by the church, school and workshops on one side and houses for the indigenous people along the other 3 sides.
Initially, a total of 11 missions were established in the Santa Cruz department in eastern Bolivia over a period of 76 years. When the Jesuits were expelled from South America on the orders of King Carlo III in 1767, most similar missions on the continent were destroyed. This is what makes the Bolivian Jesuit missions so special. Today visitors to Bolivia can see 6 of the original missions which have been collectively declared UNESCO World Heritage Sites in 1990.
An international Barroque Music Festival is held every year in the Missions
The 300 year old churches are wonderfully preserved and completely unique, combining prominent elements of Western architecture with local materials and craftsmanship. Most resemble large houses and are built entirely of wood. They have gable roofs overhanging a porch and the interiors are divided by rows of wooden columns. Many contain priceless alters, sculptures and art.

A 25-year restoration project started in the 1970's and has restored these amazing buildings to their former glory. In addition to the churches you will also see other architectural gems including colonial residences, town halls and more. While each of the churches are different and visiting all of them would give you a remarkable insight into the historic missions, most tourists tend to visit the two most popular sites located at San Jose de Chiquitos and Concepcion.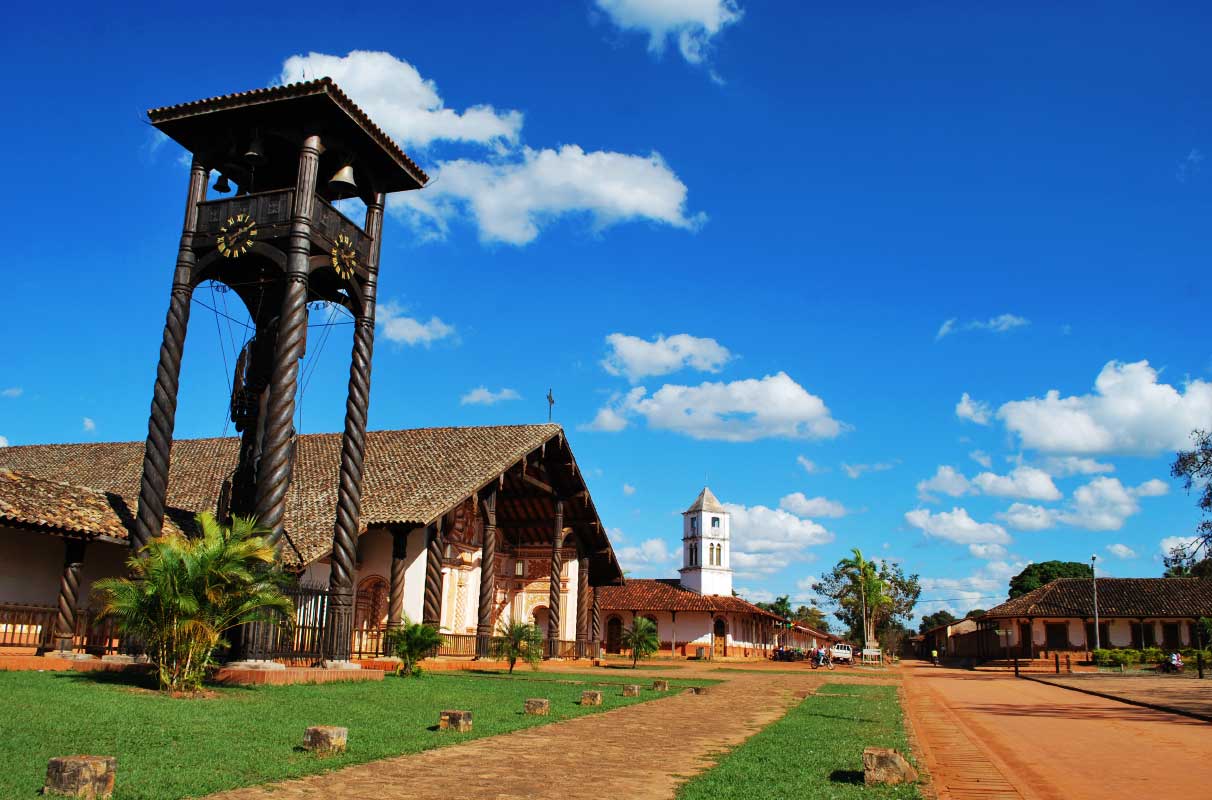 Jesuit Temple of "Concepción"
The Concepcion Mission was the largest of the Bolivian Jesuit missions and the mission church is especially beautiful, featuring 6 rows of carved pillars which support the roof. The mission also includes a former convent building and a rectory, which now houses the small but excellent museum. There is also an archive where you can see original sheet music and other historic artifacts brought to Bolivia by the missionaries. (If you happen to be an orchid lover you should try to visit in October when the annual Orchid Festival takes place in Concepcion).
The church at the "San José de Chiquitos" mission is unique among the Jesuit mission churches of Bolivia in that it is constructed out of stone rather than wood and features strong Baroque architectural elements.
Jesuit Temple of  "San José de Chiquitos"