Majestic Bolivia
Spotlight on the Wildlife
As the first rays of sunshine pierce the jungle canopy in the Madidi National Park you are roused from your slumbers by the strident call of the brilliantly plumaged macaws as they join the dawn chorus of birds and monkeys, celebrating the start of another day in the majestic Bolivian rainforest.
Calling all nature lovers, adventurers and eco-warriors! Until you have visited Bolivia and explored the deepest recesses of this constantly-surprising country you cannot claim to have fully experienced the natural wonders of our marvelous planet. Although Bolivia makes up less than 1% of the earth, it is home to a staggering 40% of the planet's wildlife and it is believed that many more species are still to be discovered deep in the jungles. In fact, in one year (2015) at least 5 new animal species and 10 new plant species were identified in the Madidi National Park alone.
Approximately 17% of the country's landmass is protected by stunningly beautiful national parks and wildlife refuges in pristine low-lying rainforest and pampas areas teeming with some of the world's most unusual exotic animals.
The Yacuma River offers an unforgettable navigable experience
Hate backpacking and camping? No problem! Bolivia Milenaria understands that the more mature traveler usually likes to combine adventure with comfort! In recent years a number of comfortable (even luxurious) eco camps have been established in the national parks which make exploring the region a more attractive concept for demanding travelers who like to sleep in a comfortable bed, enjoy a proper shower and eat three delicious meals every day. Bolivia Milenaria only uses the best camps on our tours and since all our private and small-group tours are tailored to your requirements you can rest assured that you will not have to do without your creature comforts.
We are the pioneers of Glamping in Bolivia
Where to go for the best wildlife experience in Bolivia?
If you only have a limited amount of time to spend in the country it could be a daunting task to choose which fabulous wildlife area to visit. Here we will try to give you an overview of what each of our popular tour destinations has to offer; each of them is special in its own particular way, but all of them are equally majestic and exciting to visit.
Starting in the extreme north-west of Bolivia, Madidi National Park is one of the country's most popular wildlife destinations which can be easily accessed by air from La Paz. Your scenic flight will give you a brilliant overview of the Amazon River and forests and whet your appetite for what lies ahead. Your visit to Madidi will include quite a lot of walking (all walks rated as easy) which will get you really up close and personal with a huge variety of creatures large and small – everything from a butterfly or tiny tree frog to a large wild boar or even a jaguar. While you are walking be sure to look up into the jungle canopy – you may be lucky enough to spot a spectacled bear resting on its day-time sleeping platform. You will also spend plenty of time canoeing on the river, silently gliding past a wide variety of wildlife along the banks.
Madidi boasts over 1000 species of birds, making this place a Mecca for bird watchers – you can observe natural macaw nesting sites and watch these and other colorful jungle birds interacting. Walks in Madidi can be tailored to suit your particular interests (perhaps the chance to learn about medicinal plants, tiny insects or how each and every creature forms an essential part of the ecosystem) and photographers will have ample time to snap some fascinating memories. After dinner you can join a night walk or boat trip which will give you the unique chance to see nocturnal creatures like the armadillo, night monkey and tapir. One of the cultural highlights of your tour to Madidi will be a visit from the local Quechua – Tacana people who will treat you to a traditional music and dance performance on one night of your visit.
Madidi is home to hundreds of endangered animal species
Noel Kempff National Park
This 2-million hectare national park protects an area of outstanding natural beauty and wildlife diversity in the eastern lowlands adjacent to the Brazilian border. The landscape is mesmerizing, featuring a soaring tree-covered rocky plateau called the Huanchaca Plateau, which rises 500 meters above the floor of the Amazon forest. You will see huge cascading waterfalls and amazing wildlife encounters are commonplace. Visitors make their way through the wilderness on foot or by boat to see monkeys, giant otters, caimans and sometimes the shy jaguar. However, the star performer in this particular park is the playful and inquisitive pink river dolphin (bufeo) who often plays alongside your boat. While you are looking out for the dolphins be sure not to miss the colorful parrots and monkeys in the trees. Also keep your eyes peeled for a sighting of the delightfully slow-moving sloth.You can choose to spend anything from one day to six days exploring the salt flats and the Altiplano. A one day tour will give you a brief introduction, the chance to have a delicious lunch of local produce in the heart of the salt flats and a little time to have some fun with your camera – Uyuni is a photographer's dream destination where the very flat landscape causes perspective to become blurred and offers the chance to take the most unusual photos using the kind of optical illusion only found in this unique type of landscape. To be able to leave the Altiplano with a deeper understanding of its unique culture and natural beauty you need to plan on spending at least three to four days exploring.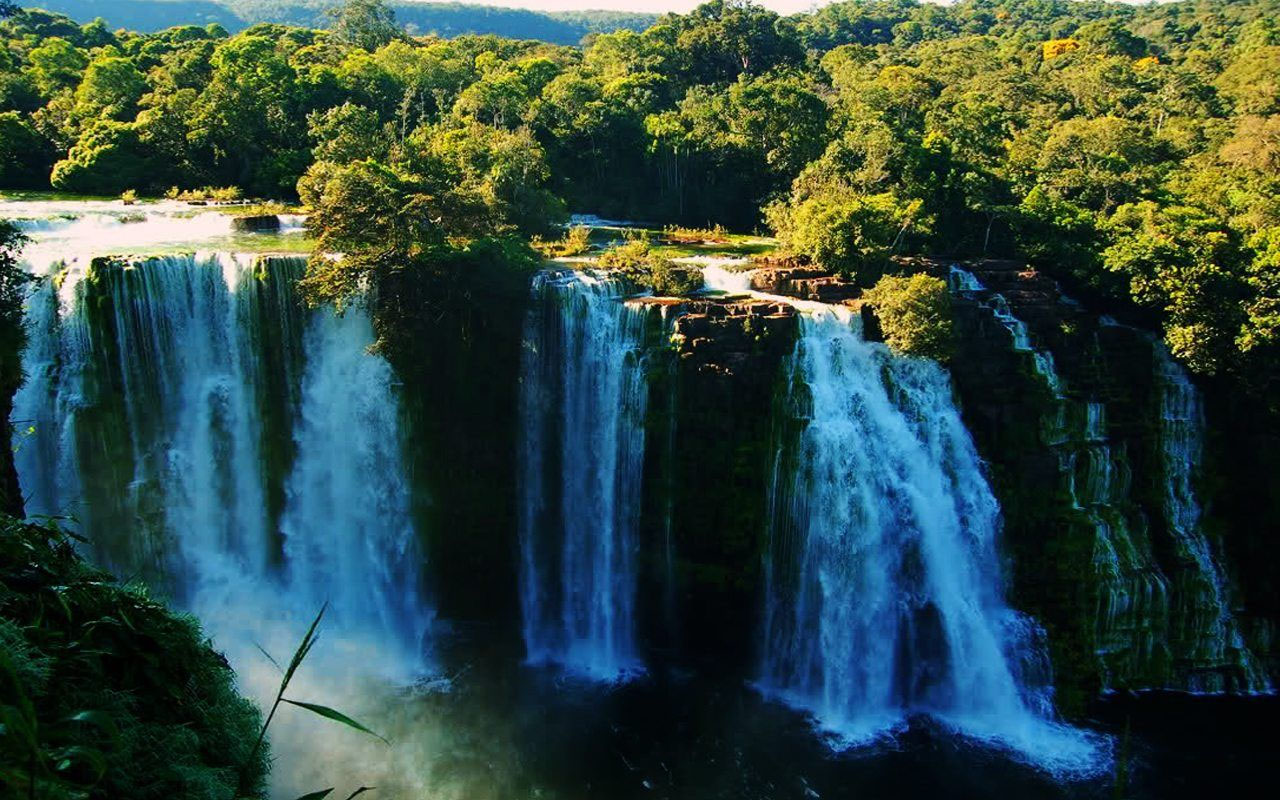 The waterfalls of the national park are its main attraction
Between Madidi in the west and Noel Kempff in the east, the Pampas of Beni is located along the banks of the River Yacuma, where the commitment of the local people to the principles of wildlife conservation has resulted in a protected wildlife area which covers 600,000 hectares of pristine wilderness. Unlike the jungles of Madidi, the pampas offers more open vistas which make wildlife spotting a lot easier. This is another good park to catch a glimpse of the pink dolphin, along with a rich variety of other wildlife along the river banks and on the forested islands in the river. Bolivia Milenaria specializes in taking small groups (or even solo travelers) deep into the Pampas for a relaxing and very rewarding wildlife experience.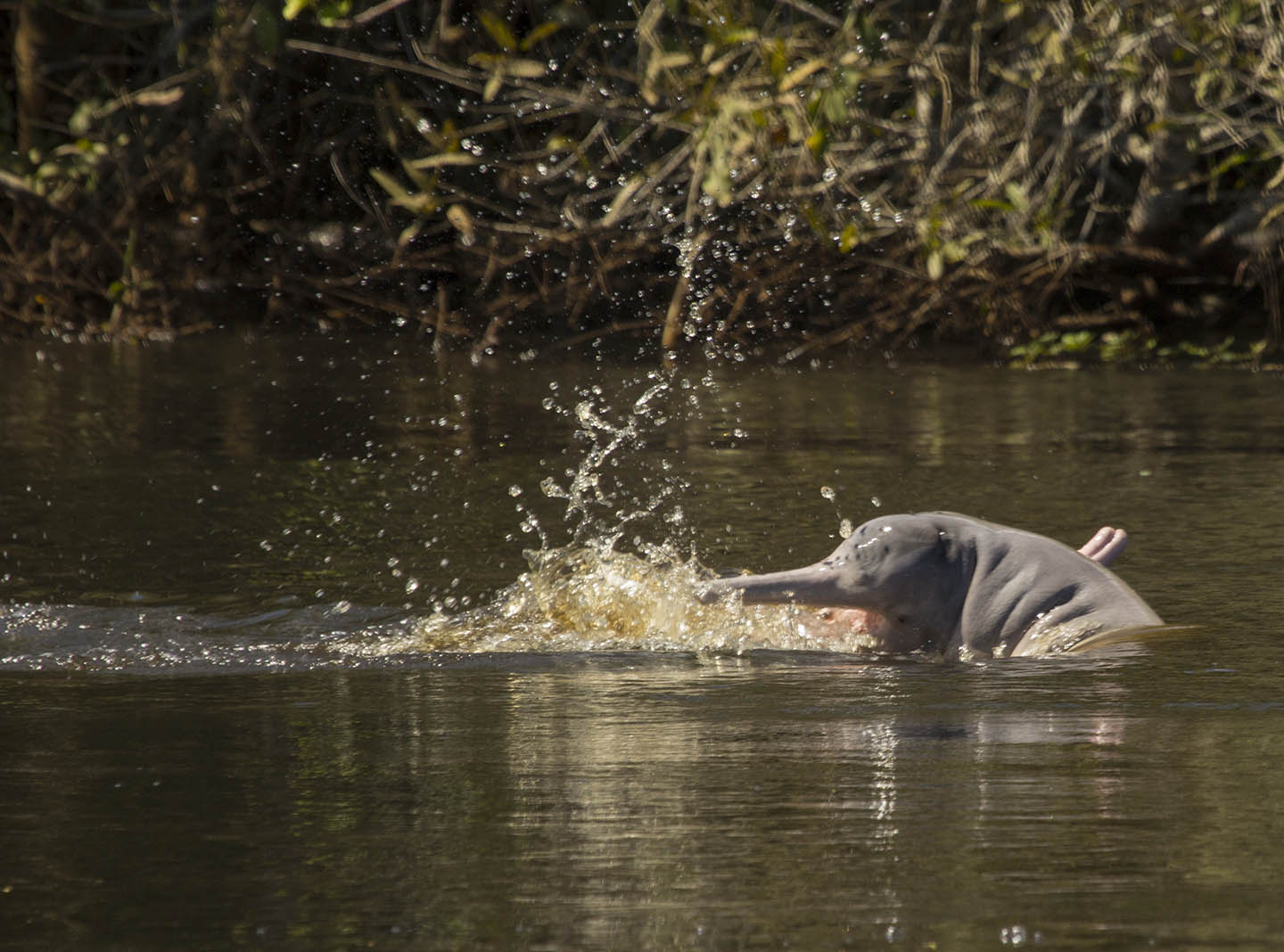 The cheerful and unique Bolivian Pink Dolphin lives in the rivers
Perhaps we have saved the best for last! The Kaa Iya National Park is located in the south eastern corner of Bolivia where it covers an enormous 3.5 million hectares, making it the largest conservation area in the country. Kaa Iya is the best place in Bolivia to see mammals and is home to the largest concentration of jaguars. Here you will be able to embark on a land-based safari in comfortable 4X4 vehicles, stopping at observation towers to see some of the world's most unique animals. What can you expect to see? Be on the lookout for not only jaguars but also puma, tapirs, giant anteaters and many more endemic species.
There is nothing quite as soothing to the soul as watching wild animals and birds go about their business surrounded by their natural environment – let Bolivia Milenaria take you on the wildlife adventure of a lifetime as we lead you deep into the Bolivian rainforests to uncover the amazing biodiversity of this often-overlooked wildlife destination.
Wildlife has another sanctuary in this national park