One of the best times to experience Bolivia's incredible diversity and culture is during carnival season. It's the time of year when Bolivians celebrate their historical traditions, look forward to the year ahead, and live in the moment – with a healthy dose of Chicha, Cerveza and Singani of course! If you're visiting Bolivia in late February/early March, find out how Bolivia Milenaria experiential tours can take you into the heart of the action as part of a safe, real experience, and unique activities …
Carnaval de Oruro - Bolivia's biggest carnival
It's not traditionally one of Bolivia's biggest tourist destinations, but for a few weeks every year, the city of Oruro is the centre of Bolivia's biggest traditional festival. This is one of the great Latin American carnivals for the bucket list. In fact, it was declared a UNESCO 'Masterpiece of the oral and intangible heritage of humanity'. The Carnival de Oruro attracts almost half a million participants and spectators to this city in the high plains of the Andes. The streets are transformed into colorful parades, traditional music and dancing, outrageous costumes and some serious revelry. Then, almost as soon as it started, the party reaches its conclusion in a crescendo of music, honking horns, and firecrackers, and Oruro goes back to the serious business of mining for another year.
Approximately 17% of the country's landmass is protected by stunningly beautiful national parks and wildlife refuges in pristine low-lying rainforest and pampas areas teeming with some of the world's most unusual exotic animals.
The importance of carnival in Bolivia
The word 'carnival' comes from the Latin for carne vale, meaning 'farewell to meat'. As far back as Roman times, it has been the last riotous binge before Lent, where traditional roles are inverted, the powerful ridiculed, and the appetite indulged to excess. Because of its association with Lent and fasting, carnival has always been an integral part of the Roman Catholic calendar, which is why it is held in late February/early March around the world, from Rio de Janeiro and Port of Spain.
The same is true in Bolivia, where indigenous Aymara and Quechua festivals were integrated into the Catholic calendar by the Spanish. Not that the Spanish were initially enthusiastic. Having founded Oruro in 1606 for the purpose of mining, the colonists tried to ban indigenous festivals, so today's carnival is a curious blend of pre-colonial and contemporary influences and rituals, making it a fascinating insight into Bolivian culture.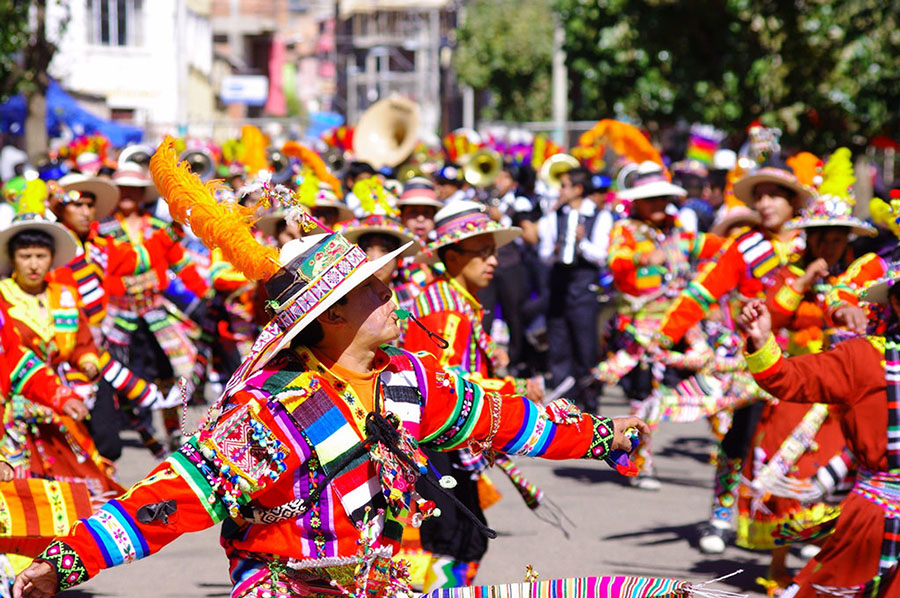 Indigenous Bolivian traditions on show
To the outside observer, the Carnival de Oruro might be a confusing mix of costumes, customs, and dances. But you won't be on the outside for long. Visitors come from all over Bolivia and the world to Oruro's streets and galleries, and locals quickly welcome and absorb them into the action.
Most easy to spot is the ghastly figure of El Tio. One of the key characters in the parades, surrounded by a troupe of devils, he is the god of the mountains, responsible for the safety of the miners for the year ahead. Not surprisingly, he has to be kept happy, so you'll see locals offer him gifts of cigarettes, sweets, and alcohol.
Equally important is Pachamama – the Earth Mother. Where El Tio is bold and subversive, Pachamama is a benevolent maternal figure looking over the wellbeing of her people. You'll see Bolivians performing the cha'lla ritual on Shrove Tuesday in honour of Pachamama, sprinkling alcohol and blood around their homes or on their cars for good luck.
What to expect for the visitor
If you've ever been to a carnival before, in Bolivia or not, you'll be familiar with the basic interaction between performers and spectators. But by the end, it's hard to know which is which. Crowds gather at the roadside, on their balconies, or in ticket-only galleries to watch the parades. These include marching bands, local troupes, and vehicles covered in shiny, colorful decorations. The Oruro carnival typically brings together more than 50 folkloric groups and some 20,000 dancers, starting off on Friday night with a parade in honour of El Tio (which goes on long into Saturday morning!), then a 4km-long parade on Saturday, before a huge event on Carnival Sunday. As with all traditional carnivals, revelry comes to a close on Ash Wednesday, the beginning of Lent.
You'll soon become acquainted with numerous myths and legends from Uru mythology that date back to pre-colonial Oruro, not least the ceremony in honour of the Virgin of Candelaria, which holds a particular affection for the region's mining community. You'll also witness the unique dances from local indigenous groups, including the Diablada, Llamerada, Wacas, Moseñada and Tinkus and.
But above all, you can expect to get wet! There's a tradition of spraying party foam in people's faces and pelting them with water bombs, and tourists are a favourite target. It's at this point that you stop being a spectator of the carnival, and become a participant.
Oruro Carnival - what you need to know
The Oruro Carnival wil takes place from February9 to February 12 in 2024. Getting there is easy, with our private services covering the 3-hour journey from La Paz. Oruro is not a significant tourist destination, so the few hotels and guest houses available are booked up months in advance. That's why we think the best way to experience the Carnival is as part of an organized full day tour, with accommodation and travel taken care of from and to La Paz.
Other festivals in Bolivia
Can't make it this year? Don't worry. Here are some of the other festivals and carnivals in Bolivia worth seeing…
• Gran Poder in La Paz in May/June. A huge street party with lots of traditions.

• Aymara New Year on June 21. The Aymara people celebrate their New Year on the summer solstice, heading to Tiwanaku from La Paz to see in the sunrise from the arqueological site.

• Chutillos in Potosi An incredible festivity on behalf to San Bartolome on Agust 24th