Close your eyes for a moment and imagine a place where time has stood still for thousands of years. As you step out of your 4X4 you find yourself standing in an enormous flatter-than-flat snow-white desert of salt, stretching as far as the eye can see.
Here and there a distant island rises from the sea of white beckoning you to explore deeper into this other-worldly landscape. This is Salar de Uyuni!! – and you are about to set off on an adventure of a lifetime in one of the most intriguing and magical landscapes on the planet.
Salar de Uyuni (the Salt Flats of Uyuni) was formed thousands of years ago when two enormous salt-water lakes dried up to form the largest, highest (nearly 12,000 feet  above sea level) and flattest salt deposit in the world. It is not surprising that the salt desert seems to stretch on forever – it covers a staggering 4,050 square miles on the Altiplano (Bolivian High Plateau) in the arid south west of Bolivia, close to the crest of the Andes Mountains.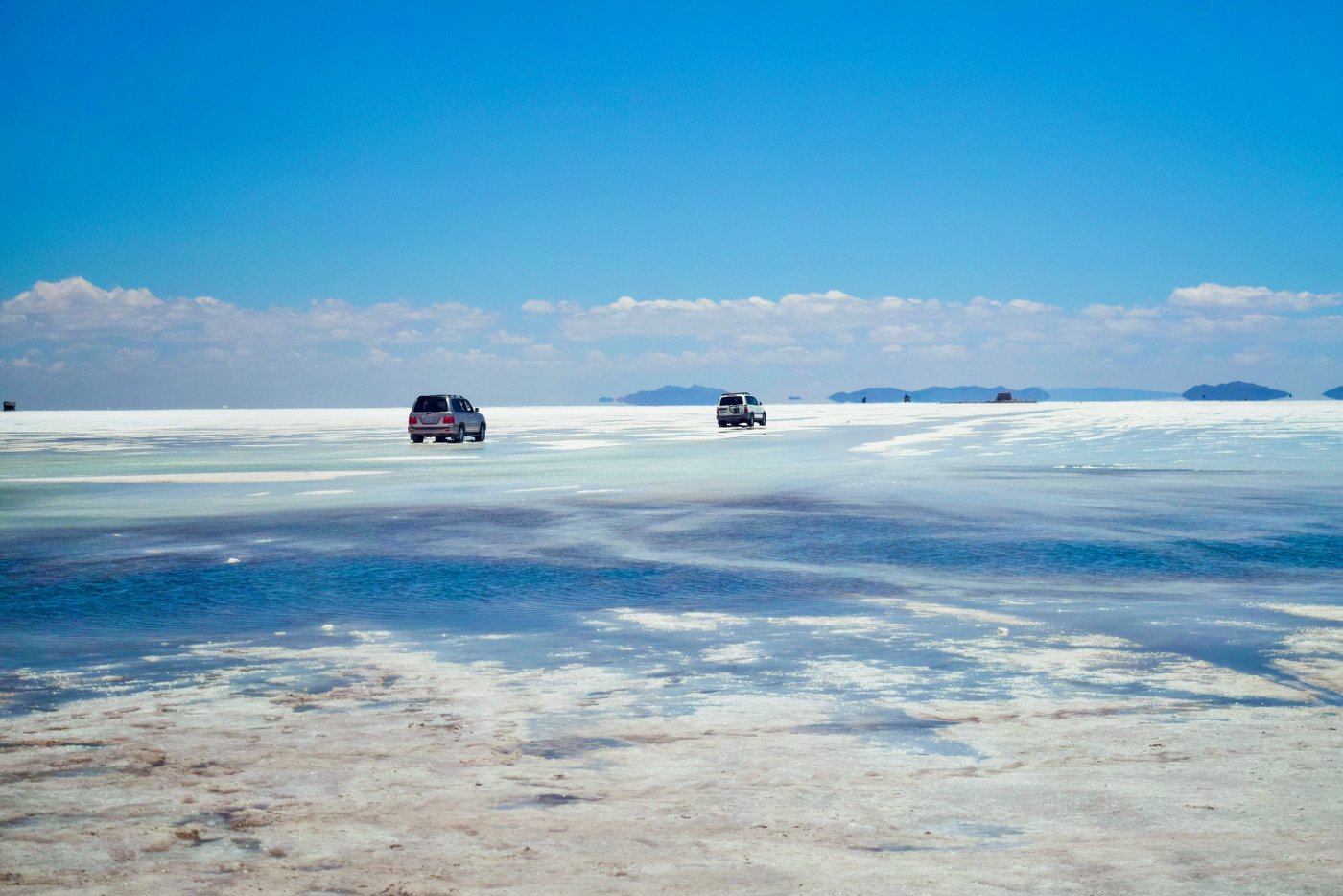 Entering the Salar de Uyuni in the 4×4 vans, rain season
The more accessible parts of Uyuni attract thousands of day-trip tourists every year, which means that these days you will no longer have the luxury of exploring this wonderland on your own. If you crave solitude and the chance to unlock the many mysteries of Uyuni you will need to venture deeper into the desert where you will see all the hidden treasures of the Altiplano and meet some of the local people. What can you expect to find? That will depend on how much time you have and who you choose to be your guide!
Many local tour companies cater mainly to backpackers and other budget travelers, offering rigid low-cost itineraries which barely scrape the surface of this magical place. For those who have the luxury of more time and a larger budget, the amazing Salar de Uyuni has so much more to offer and you can anticipate interacting with the local people, seeing volcanoes, hot geysers and rainbow colored lakes, as well as swimming in natural thermal pools right in the middle of nowhere. The vast white desert is at its brilliant best as the sun rises and sets, and the best place to observe this amazing phenomenon is from your overnight accommodation in a genuine Salt Hotel.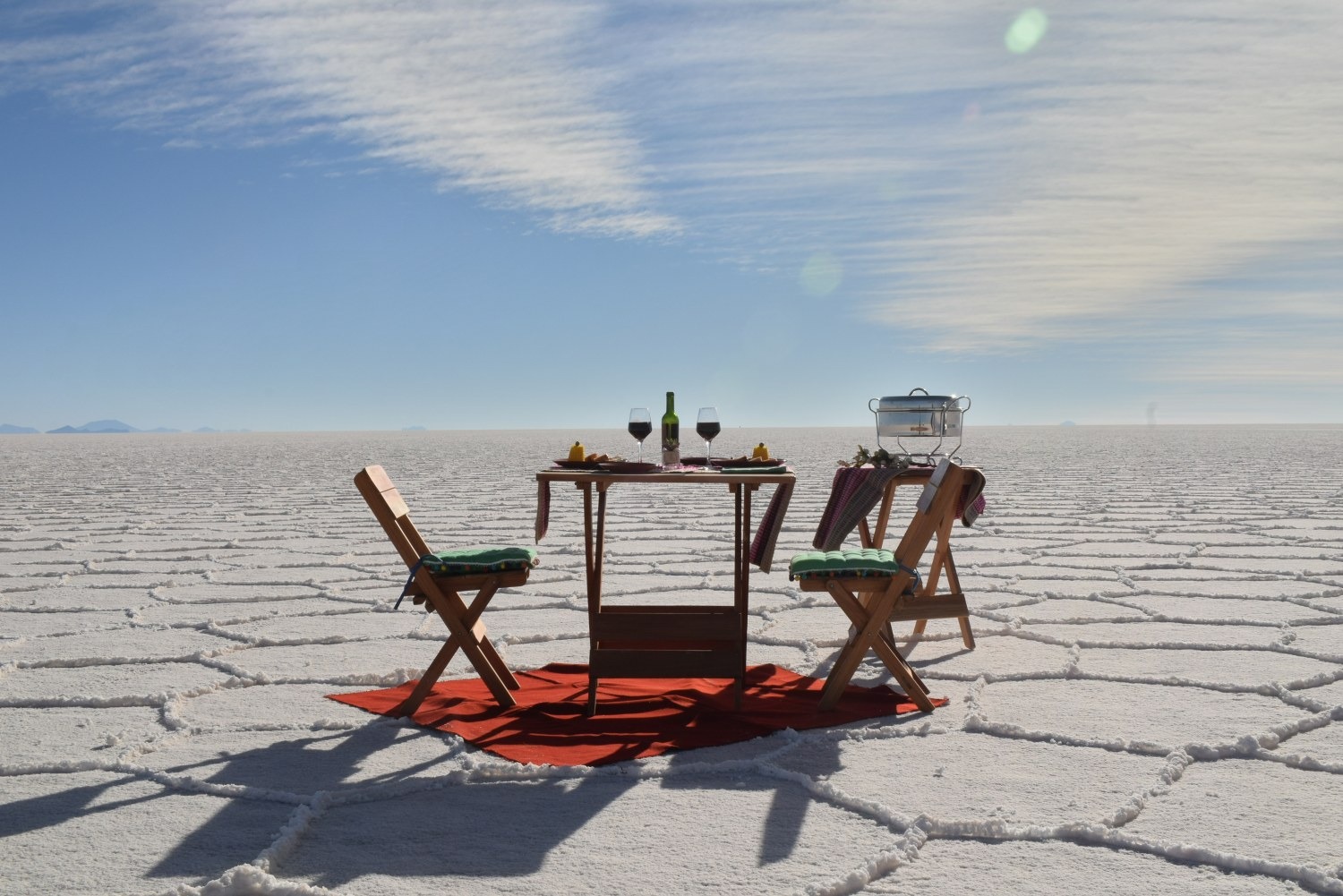 Having a meal in the middle of the salt desert is something you will remember forever
As you make your way deep into the heart of the desert your overland tour will include visits to cactus-covered islands like Incahuasi or Isla del Pescado (a fish-shaped island) where a short hike to the summit will reward you with exceptional views and the chance to meet an alpaca. As you delve deeper into this magical place you will have the chance to visit the salt-mining towns of Potosi or Colchani, where you can see how the local people live their lives in this harsh and remote corner of the planet – you will have the chance to support the local communities by buying some local hand-made crafts and see how the locals here still farm quinoa using age-old non-mechanized farming methods. If you love ancient history and culture you should be sure to include a visit to Coquesa village where you can visit the Coquesa Mummies and the Chantani museum to see a collection of local artifacts.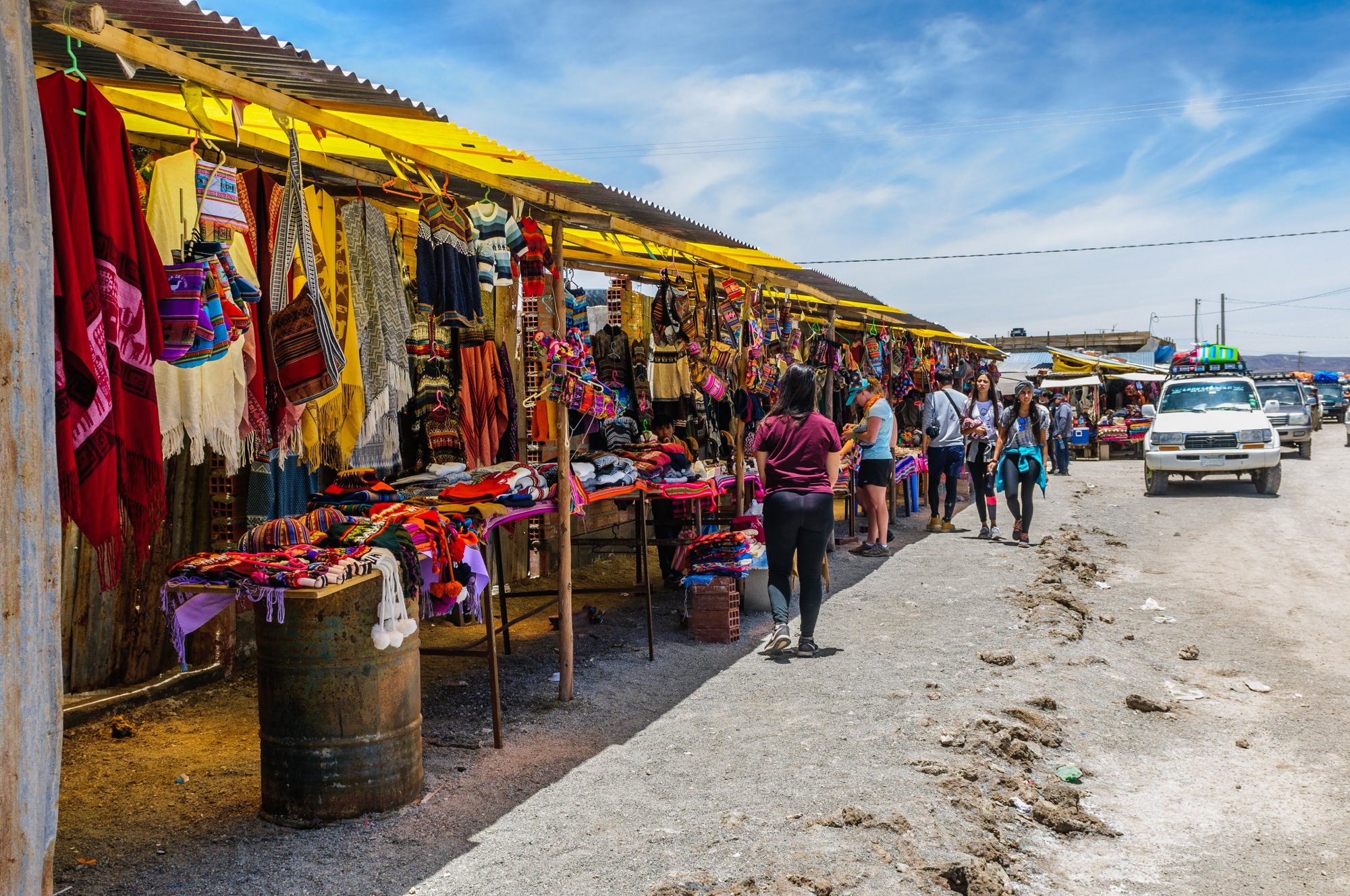 Colchani is a good place to buy local crafts, many of them made of salt
The equally brilliant Laguna Verde, which is an almost unbelievable shade of emerald green, is set against the backdrop of the Licancubur volcano. If you have the energy you can hike to the top of this dormant volcano to see some Inca ruins.
You can choose to spend anything from one day to six days exploring the salt flats and the Altiplano. A one day tour will give you a brief introduction, the chance to have a delicious lunch of local produce in the heart of the salt flats and a little time to have some fun with your camera – Uyuni is a photographer's dream destination where the very flat landscape causes perspective to become blurred and offers the chance to take the most unusual photos using the kind of optical illusion only found in this unique type of landscape. To be able to leave the Altiplano with a deeper understanding of its unique culture and natural beauty you need to plan on spending at least three to four days exploring.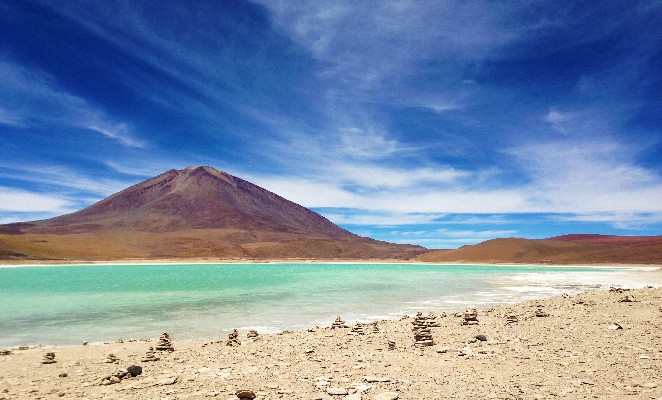 The Green Lagoon and Lincabur volcano at the background
At BoliviaMilenaria we believe that there is no one-size-fits-all when it comes to structuring your visit to Uyuni and each and every tour on offer can be tailored to suit your particular interests, be they photography, nature, cultural heritage, archaeology or simply enjoying the very best that nature has to offer.
It is important to carefully consider when to visit Uyuni. The peak tourist season is from May to November, when there is little chance of rain and the flats are easy to cross. Bear in mind that during the Bolivian winter June – August, it is absolutely freezing at night on the salt flats. If you want to experience the amazing mirror effect which occurs when the salt flats are covered with a few inches of water March is probably a good month to visit. In December and January there is a chance of heavy rain, which could cause the salt flats to be completely flooded and your trip will be cancelled or at least curtailed.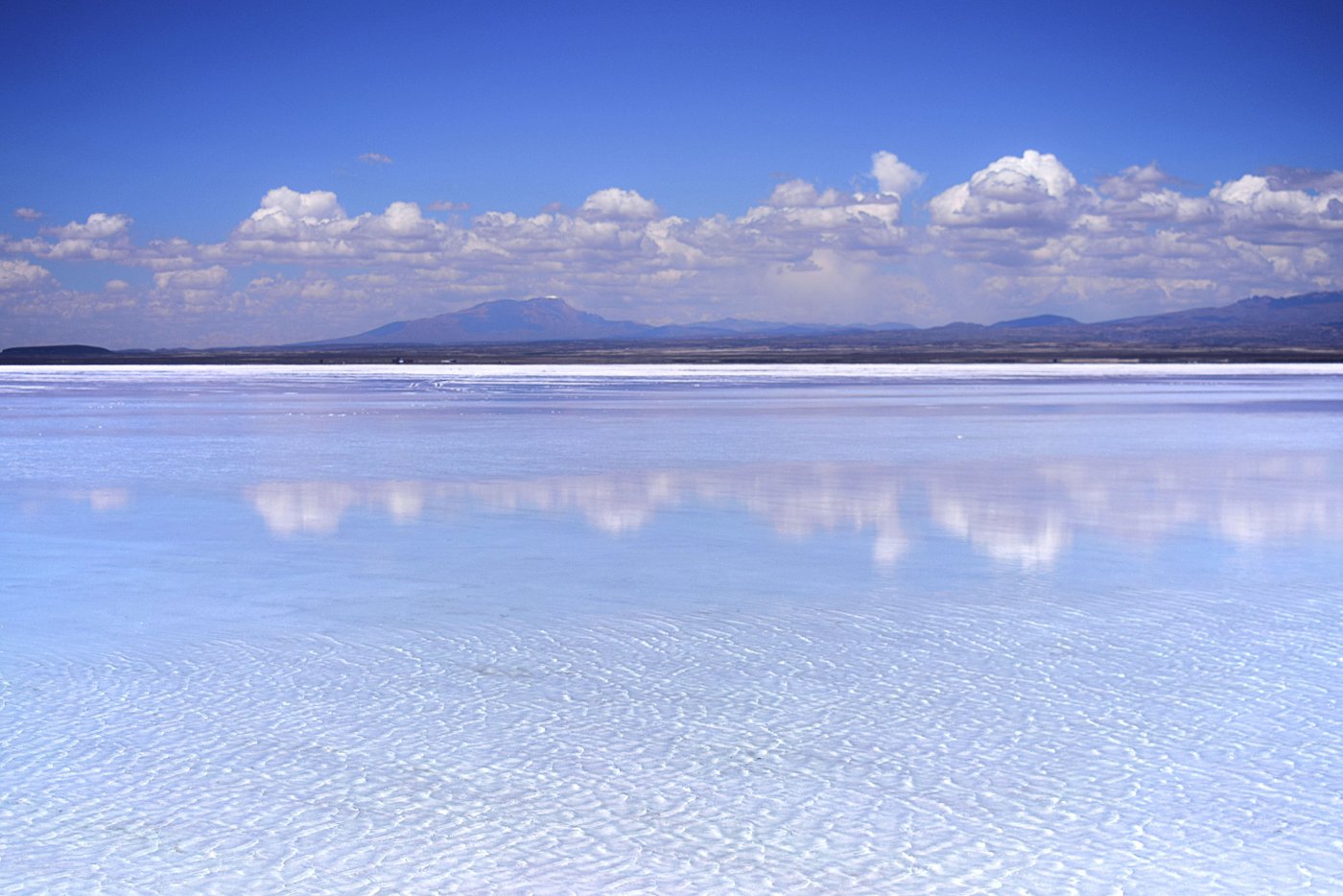 Water in the rainy season creates an incredible mirror effect
Other things to be aware of when you visit Uyuni:

The sun is extremely harsh and you need to cover yourself with sunscreen – even up your nostrils – to protect yourself from the reflections off the white salt. Where a hat and cover up!

It can be absolutely freezing in winter – be sure to dress in layers so that you can peel off outer layers as the day warms up. You will definitely need a warm jacket, gloves, hat and boots in winter.

Altitude sickness – many people experience headaches and other symptoms of altitude sickness if they do not allow a few days to acclimatize themselves before heading up to the salt flats. Spend a few days exploring other areas before you visit Uyuni.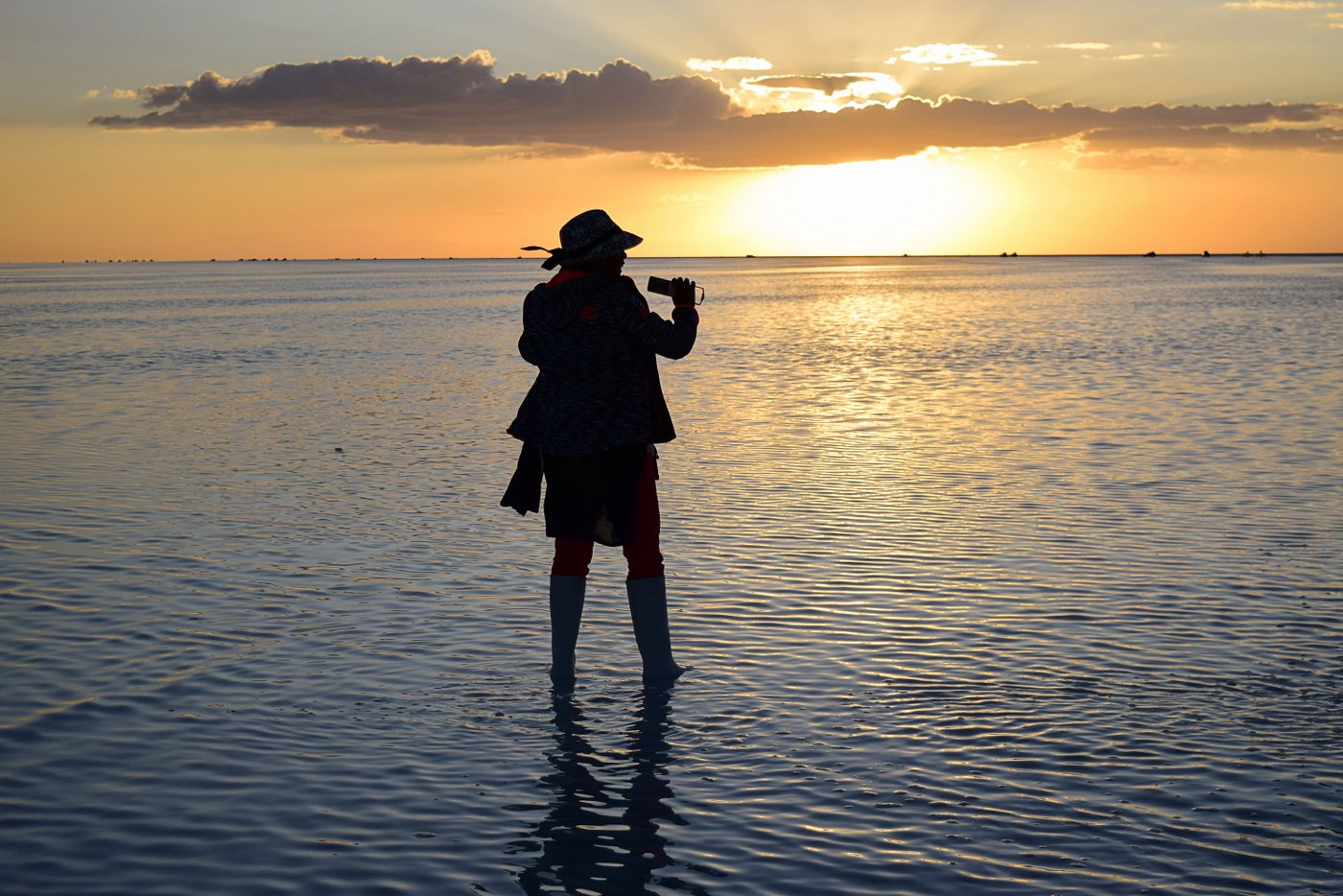 a good hat, sunglasses, loose-fitting long-sleeved clothing, sunscreen, and a camera! are a must for your trip to Uyuni